Eye of Horus


Oh what a time it is to play slots.
Once a humble and very simple game, the fruit machine has evolved into something quite incredible and these days, the online slot game, online slot machine or online video slot machine, are nothing short of online sensations.
While they might not have the ability to go viral quite like a funny cat or the next dance craze, they are enjoyed by hundreds and thousands of people up and down the country who love playing UK slot games. The online slot game community seems to grow by the day, as new releases and new ways to play this age old game format seem to emerge all the time, too.
One of the best things about playing slot games online is the amount of choice that exists and the promotions you can find if you visit this page. Even if you are a regular player of online slot machines, you could easily never play the same game twice, such is the incredible amount of choice that exists online.
Across the amazing selection of online casino and online casino providers, there are even more slot games, ranging in themes, layouts and gameplay styles. There are also many themes that seem to be more popular than others with the developers of slot games, as the likes of Ancient Egypt always seems to provide lots of inspiration for a slot game.
Eye of Horus is an example of a slot game with narrative design, as it uses the mystical nature of this fascinating period in history as the main reference points for it's presentation, design and symbols across the reels. There are loads of games with this theme at hand, yet Eye of Horus still manages to stand out as quite an original game thanks to it's level of detail in every animation and commitment to the intricacies of the theme in question.
Here in this slot game review of Eye of Horus we will delve deep into Ancient Egypt and the general gameplay of the slot, touching inspects such as gameplay, bonus features, the developer and finally, a verdict on Eye of Horus. Is it worth playing this slot game and what can you expect from your time spent playing Eye of Horus? All is to reveal in this online slot game review.
Quick Links: Guns n Roses Slot | Jimi Hendrix Slot | Bonanza Slot | Stardust Slots | Fluffy Favourites Slots | Fluffy Too Slot | Slingo Slots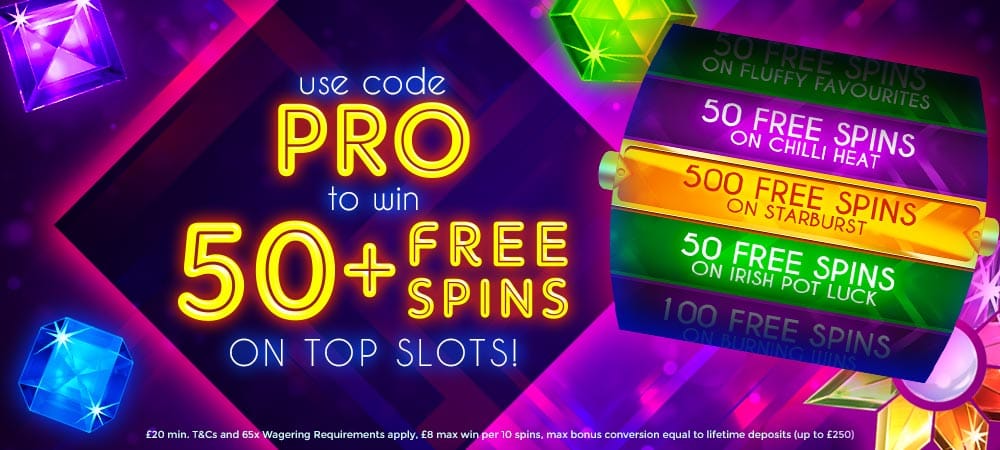 Summary of Eye of Horus - Expectations vs Reality
As you already know by now, Eye of Horus is among the slot games that has an Ancient Egyptian theme and as such, many of the references are to this intriguing period of time. The game is a video slot thanks to a nice level of animation and graphics that help engage the player even more and even deeper into the theme offered. Eye of Horus has 5 reels and 10 pay lines for the player to work with, making up what is a fairly standard layout for an online slot game.
While there are many online set games that offer more advanced and more complicated layouts, and do so very well, we actually like how Eye of Horus offers this more classic gameplay style as it means that you know where to stand very quickly after launching the game. Those who regularly play online slots will know exactly how this one works and that can only be a good thing, as it makes for quite an accessible play that more people can enjoy.
In Eye of Horus video slots, players must assign the value of the coins they bet with and once this is done, you can bet between 0.1 and 250 coins per spin. This is a very large betting margin and again helps make Eye of Horus a really accessible play. This means that no matter what your budget for online gambling, you can make the betting scope in Eye of Horus work for you just fine. A top end bet of 250 is particularly large and so, even the high rollers amongst us will be able to get a kick from this online slot game.
This is not a jackpot slot so you will not find a progressive jackpot in this game. There is however a jackpot in this game and that totals to 500 times your stake. This, in combination with the aforementioned betting scope, means there really is a chance to win some big cash on Eye of Horus.
| | |
| --- | --- |
| Eye of Horus | Statistics |
| Min Bet Per Spin | 10p |
| Max Bet Per Spin | £20 |
| Return To Player (RTP) |  96.31% |
| Volatility |  Medium |
| Theme |  Ancient Egypt |
*All of the above values are subject to change at anytime.

Blueprint Gaming - The Developers of Eye of Horus Slots
The developers of online slot games and online casino games in general are a really important part of the entire pastime that is having a flutter online. This is because it is the developers who create the very games that we play and love and it is they who have come to define this era for online casino in many ways. You can play it on Slots Racer and access other Blueprint games, as well as other casino game developers in an instant online!
Developers just seem to get better and better, taking what was once such a humble and simple game to new realms of gameplay and graphics. Still with the same slot game fun at the centre, slots have become 3D animated adventures in recent years and new technology and new ideas from developers has been the driving force for this. There are some really famous examples of slot game developers out there, with the likes of Microgaming perhaps being the most famous of them all.
This influential developer worked on the earliest online gambling software that triggered the whole rise of online casino and they are still creating and innovating today. A far newer name, Blueprint Gaming are also a great developer and they are the creators of Eye of Horus. This brand knows a thing or two about slot games, that much is clear, and they have a huge collection of slots in their growing collection of games. Blueprint always put a great emphasis on the graphics they use and better still, their games are always made available across all major platforms.
This means that, when you are playing a Blueprint Gaming slot game or other casino game such as online card games or online bingo, you will be able to enjoy it from your mobile device, your tablet or more simply from your desktop. This makes online gambling easy and accessible for all of the legal gambling age, so fair play to Blueprint Gaming for mastering the art of slots across all major platforms and devices known to the gambling community of today.
Other Games by Blueprint Gaming
As mentioned, Blueprint Gaming have a really nice catalogue of online slot games to their name, despite not being as widely revered as some brands, they are certainly on their way to being one of the top development brands in the online casino world. Their collection of games is really nice and varied in terms of themes and styles, as evidenced below with a few other games from their catalogue of online slots.
Fishin' Frenzy
Fishin' Frenzy is one of the most impressive online slot games in the collection of Blueprint Gaming. It is a game that combines the classic elements of a slot game with some really nice modern features. The game has 5 reels and a set of theme relevant symbols that are really fun to work with. But furthermore, a Fisherman wild comes to life in the bonus round and fishes for great prizes. The more he catches the more you get in this very engaging slot game.
Beavis and Butthead
This slot game version of the cult-classic cartoon that first appeared on MTV advert breaks is a really fine addition to the online casino landscape. The graphics are exactly the same shakily drawn, trippy animations that the show was known for and the same crass sense of humour features throughout. Of course, the Beavis and Butthead game is set on the iconic setting that is these two teenage boys' home setting, sat on the couch, watching TV. Perfect.
The Pig Wizard
This mobile slots game perhaps shows off Blueprint's ability to make a game from just about anything, with one of the strangest and most surreal themes you could think of. The Pig Wizard gears itself around a pig wizard, no less, with this really good humoured and weird slot game being a good one to play that offers many magic bonuses that can turn an average spin into a really good one very quickly.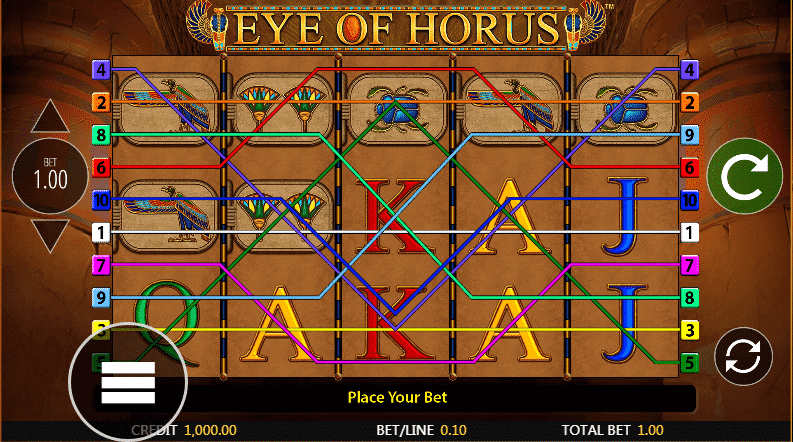 Playing Eye of Horus Slots - Gameplay & Symbols
Eye of Horus is really simple to play as we have touched on already. This is something that we really like about the game and it means that it does not require you to learn the ins and outs of a new gameplay style. That said, the simplicity of the game does not mean that it is not advanced in other ways, with some really nice graphics and animations making for a slot game that flows wonderfully and fully engages the players who take on the challenge of Eye of Horus.
On those 5 reels you will find symbols and relics of Ancient Egypt, with hieroglyphics lining the reels. Line these up for wins that can really vary in size but everything on offer in Eye of Horus is worth landing. The game is played in a temple of sorts and there is a sandy backdrop to the reels as you spin them. In this game you will find that there are five high value symbols and these the include Eye of Horus, Anubis, Horus as a bird, a blue scarab and two ankhs. Eye of Horus shows how it can go in-depth into a theme with these symbols. Check your history books, as these characters and symbols are all prevalent in Ancient Egypt.
Eye of Horus also has some lower paying symbols which are represented by card symbols. While these might not have been seen during the time period in question, they have been given something of a timeless makeover, with the 10, J, Q, K and A symbols fitting the theme even if they are technically not theme relevant icons.
No matter how you play your slot games and other online casino games, this game should work just fine for you as it is fully functional across all major platforms. A typical trait of this developer, Blueprint Gaming, the game is really well adjusted to whatever screen size you play it on and it does not matter if you are playing with a mouse, trackpad or touch screen. Laptop, desktop, tablet or smartphone, this game works wonderfully however you load it up.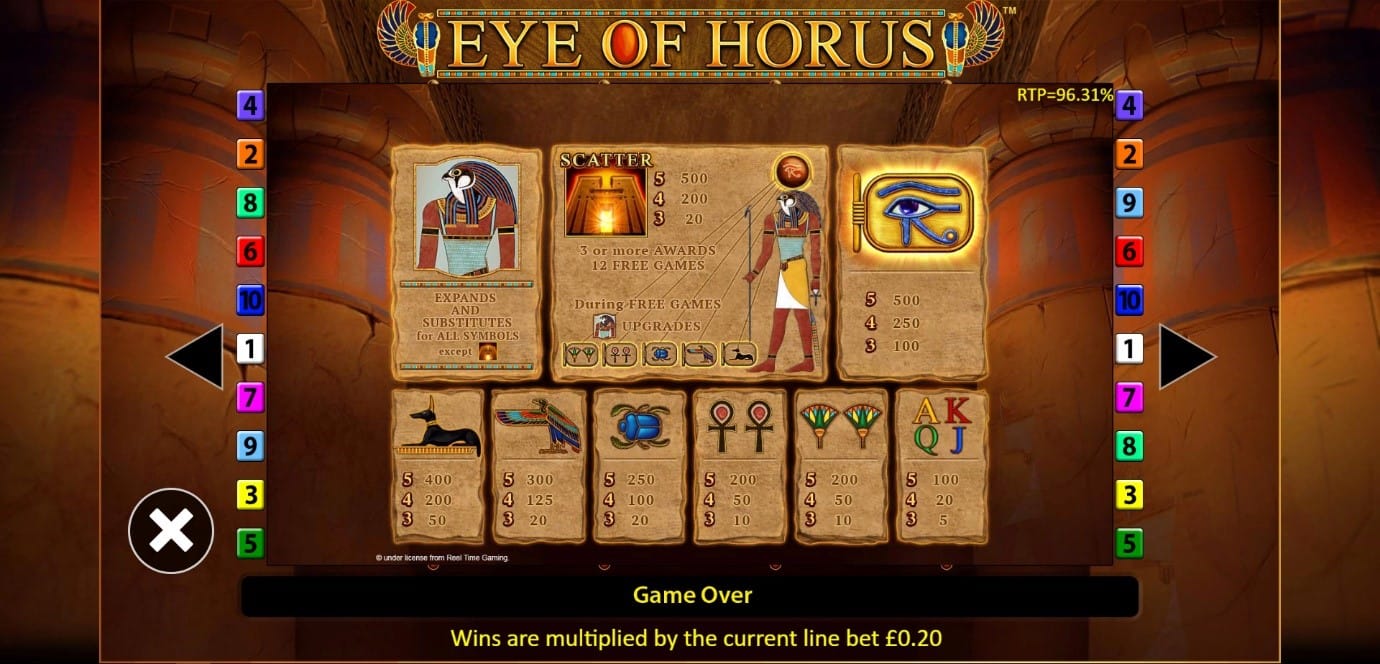 Eye of Horus Bonus Features and Free Spins
Eye of Horus might not be filled with bonus features but it does offer one such feature. This is, as regular slot gamers will be pleased to learn, a free spins feature. Free spins features are very prominent across the nine gambling landscape and they are loved by the gamers because not only are they easy on the wallet by offering spin and a chance to win for free, but they often come with extra bonuses such as multipliers or extra wild symbols on the reels.
The free spins in this game is triggered by landing there or more of the scatter symbols in this game which are represented by the entrance to the tomb. You will get 12 free spins if you are lucky and these are played out on the same set of reels. During this round, wilds which land will award one extra spin, meaning that your free spins can carry on.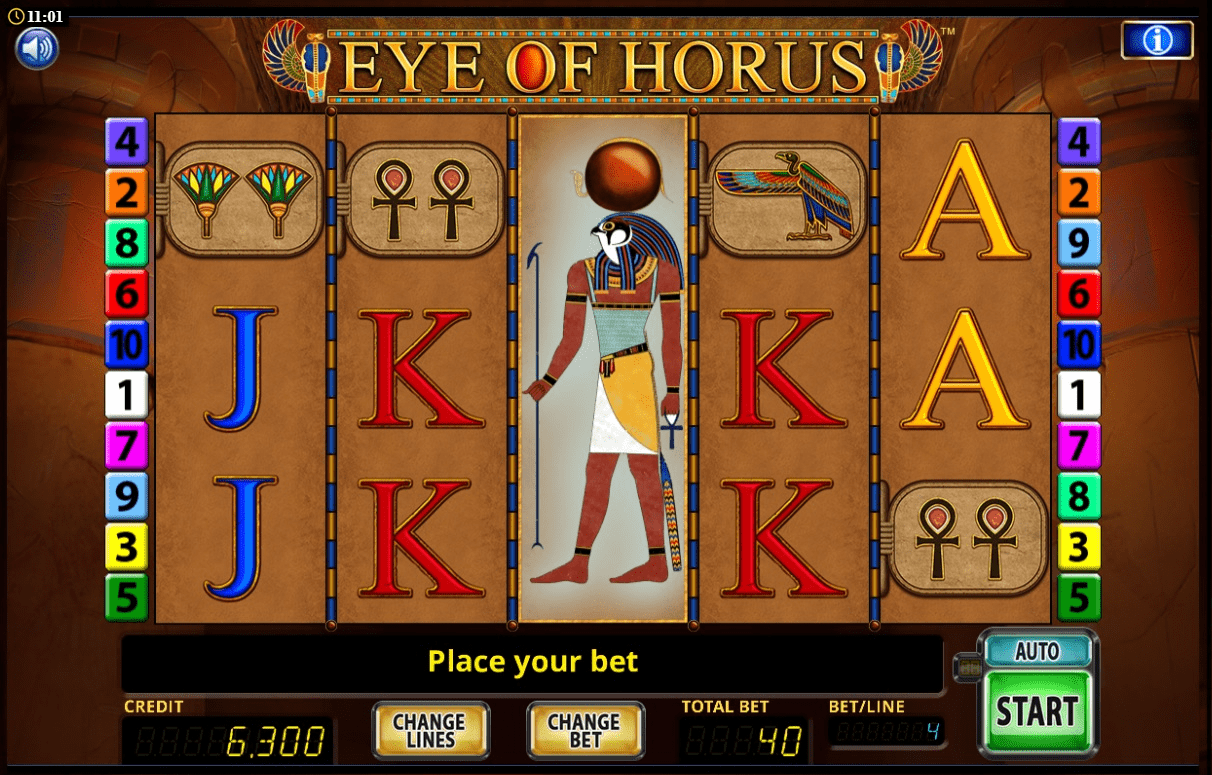 Verdict on Eye of Horus Slots - Hit or Miss?
It must be hard to create a game with this theme and still make it original, because there are so many games to choose from if you want to delve into Ancient Egypt. However, Eye of Horus manages to stand out from other games in it's field and this is done with a great level of love and detail.
The graphics and general design of the game is well done and symbols are well made and with great knowledge of the theme in hand. Some decent sized wins and a useful bonus feature only makes this game better.
You might also want to try Wild Wild West: The Great Train Heist slot game.
*All of the above values are subject to change at any time.
*All values (Bet Levels, Maximum Wins etc.) mentioned in relation to this slot game are subject to change at any time.