Mustang Gold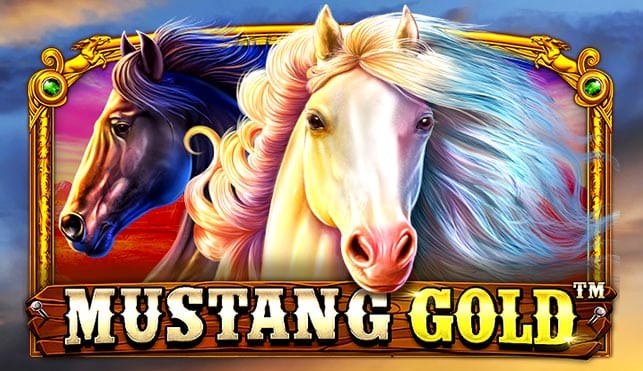 Mount Your Noble Steed and play online slots you haven't come across so far!
Summary of Mustang Gold Slots
From developer Pragmatic Play comes an online slot that will take you out into the American west, allowing you to become one with nature. Wild horses used to roam these lands on their own fruition before they were trained to ride. Mustang Gold is a 5 reel sort of game, one that can award players up to 12,000x their initial stake, which is massive when you think about it.
Pragmatic Play has always had a knack of crafting great and memorable online slot games like this one. They create slots that offer players something a little different. Different in comparison to the majority of Irish and ancient Egypt slots games available. Executing a theme can be incredibly difficult. This is especially true if it's something a little different. Yet here we are, talking about one of the most played games in the world right now.
Mustang Gold is a great slot to play when you want to kick back and relax. Those of you out there who have always wanted to be a cowboy will find that they are given all the tools to do just that. You find Mustang Gold is more than equipped to do just that! Read on if you wish to learn more about this fantastic slot! Also check out our slots promotions to help you enjoy this game even more! Find out more on this slot games by reading our full review below, or just try video slots from Slots Racer now:  
Quick Links: Guns n Roses Video Slot | Jimi Hendrix Slot Online | Bonanza | StarDust | Fluffy Favourites | Fluffy Too | Slingo

Pragmatic Play - The Developer of Mustang Gold Video Slot
Pragmatic Play is an award-winning developer that comes to you from Sweden with amazing online slots game. They are a developer who has more than their fair share of success. This is thanks to the many online slot games these guys produce on a yearly basis. You are always guaranteeing a good time when playing any game from Pragmatic Play. That's a guarantee.
Quality in their games never dips no matter how many games they are putting out always. There are well over 50 unique titles in their catalogue already. That's 49 games that you haven't played if you've never played a Pragmatic Play slot before. Not sure where to start? Here are a few of our favourites:
- 8 Dragons
- Safari
- Lucky Dragons
And many, many more games that you can enjoy with our play paypal casino!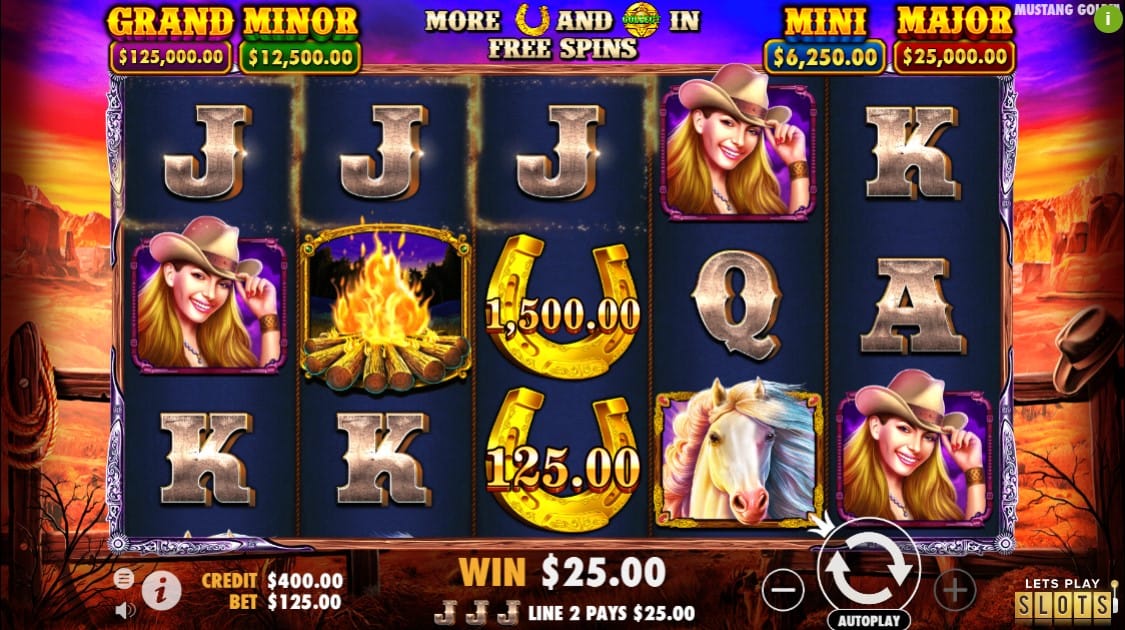 About Mustang Gold: Gameplay, Bonuses & RTP
Gon' take my horse to the Mustang Gold road, you're gonna ride all the way to the bank! Popular songs aside, Pragmatic Play has worked themselves to the bone once again. There's a very good reason to why this slot is one of the most played games in the world right now. And, this comes down to just how creative the developer is, and just how good they are at executing their ideas on the reels.
To play Mustang Gold, you must first set your bet and coin amounts. Look on the bottom of the screen, this is where you can set your hands. Coin amounts range from 0.25 to around 125 at any time. The more you play with here, the more money you'll earn once it's all said and done.
One of the best thing about this slot is that it's mobile optimised, meaning you can pretty much play this game anywhere and at any time. The mobile version is just as detailed and as fortuitous as the desktop version. The ability to play it on the fly is definitely going to earn you a lot more money as time goes on. We personally play on the morning commute and are never bored.
Appearance-wise, Mustang Gold is definitely up there with some of the best looking slots going today. Mustang Gold prides itself on the fact that it can lure a lot of players in for a few spins. Looks are everything in this industry. This is something that Pragmatic Play understands, hence why no expense has been spared in the visuals here.
Look off in the background, and you'll look out into nature itself. The colours used in this slot set the tone perfectly — this is only heightened thanks to the game's beautiful soundtrack. Purples, reds, and oranges all work to create a truly relaxing vibe, setting you up nicely for an hours worth of game-time.
The symbols are very well-designed here too, taking the shape of various western-themed icons. Symbols here include cowboys, cowgirls, horses, and horseshoes. Each of these symbols offers something different depending on the symbol you're matching. It also is dependent on however many symbols are included in the same line. Matching as few as 3 symbols in the same line will equal success, finding 5 symbols will make you even more money!
On the reels, you'll find quite a few low-value symbols. These are the sort of symbols that will give you a few smaller wins, easier to achieve wins. Look out for the black and white horse, this is the games highest scoring symbol. Remember, matching 5 of this symbol will definitely help your chances of coming away with the highest score possible.
You can play this game on mobile slots version too, as Slots Racer delivers what the players ask for!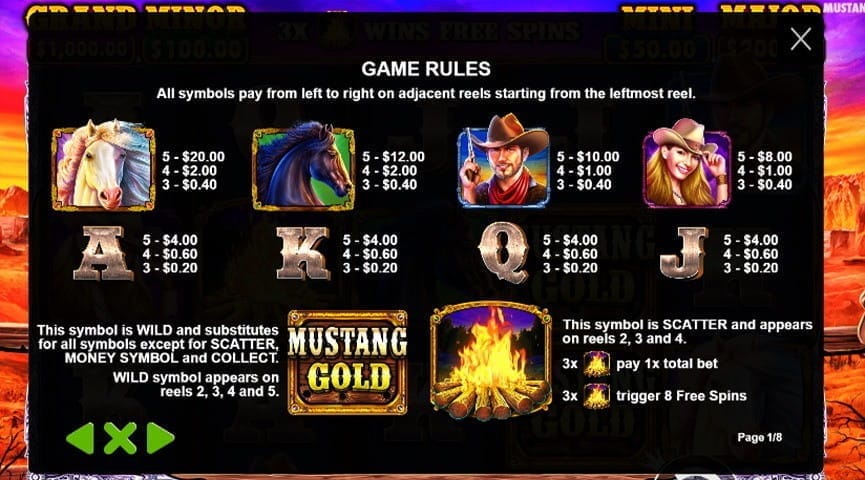 Bonus Features Available in Mustang Gold Slot Game
Autoplay is something available to players from the moment the game loads. Autoplay allows you to select a specific number of games that you want the CPU to play for you. Autoplay is a staple of any reputable online slot and is something that definitely helps you take advantage of the game's high RTP percentage. Up to 100 games can be played using autoplay. Don't feel like you're locked into this either, you can stop/start it at any time!
Wild: Wilds in Mustang Gold is chocked full to the brim of bonuses, wilds just so happen to be the most common of all bonuses. The games logo is the wild symbol, the sort of symbol that can make you quite a lot of money when used often enough. Wilds substitute symbols across the board, bringing more scatters to the board.
Free Spins: Free spins give players the chance of earning up to 12,000x the initial bet! Free spins are unlocked through matching scatter symbols, the same scatter that the wilds produce. Free spins come with multipliers. That's why they're so sought-after and why they will definitely help you to make the most of Mustang Gold.
If you don't find these extra games exciting enough, why not check out Devils Number instead?