The first mobile casino game was developed back in 2005. In the earlier years of mobile casino gaming, you could not win any real money as technology just wasn't there. You simply won rewards like free games and so on on free video slots. This changed in 2007 when Apple released the iPhone. 2008 was the year when mobile casino gaming began to take shape and improve thanks to the App Store. 
The App Store was (and still is) a place where you can download casino apps and make deposits to play mobile slots that can award exciting cash prizes. Over the past decade, mobile casino gaming has become increasingly popular and slots continue to be better optimised for a smooth gaming experience. From your mobile phone, you can play hundreds of slots and casino games from many different providers. There's something for everyone from simple 3 reel slots to poker, live dealer, and slots with lots of imaginative and innovative features.
Below find a more in-depth analysis on this topic, and also our best slots:
Quicklinks: Rainbow Riches Free Play  | Irish Spins | slots favourites | Starburst Slot Machine | Fishin Frenzy Slot Game | Enchanted Prince Slot | Slot Bonanza free

The Convenience of Mobile Online Casinos
Many gamers prefer to gamble online, however, it's becoming more common to access an online casino through your smartphone or tablet. Playing casino games on your mobile allows you to gamble on the go so is very convenient and easy to access. You can play slots on your journey to work to make the time go faster or you can play casino games when you have a spare minute to yourself after a hectic and busy day. 
The days of visiting a casino are long gone and people like convenience so we can see mobile casino gaming sticking around in the future. You don't even have to wait for your laptop or computer to load to play casino games which is also another great reason why mobile online slot games are great.
So much choice
When mobile casinos were first introduced, there weren't many fruit machine slot options like today on slotsracer.com. Pub Fruity was actually the first mobile casino game made available and it was a classic fruit machine slot. Pub Fruity was a popular mobile slot for years before mobile gaming advanced and more exciting games were introduced. Pub Fruity was quite an interesting slot with mini-games including pick a jackpot. As well as Pub Fruity, a number of pub-themed slots were released with IOMO and Vodafone which people enjoyed. Win slots and huge bonuses at Slots Racer today.
The mobile casino industry has come a long way since then. Fast forward 10+ years and gamers now have thousands of options of what mobile casino games to play. There are 3 reel slots, 5 reel slots, 243 ways to win slots, multiple ways to win slots, progressive jackpots, and cluster pays slots. 
There are slots with animal themes, fruit themes, cops and robbers themes, Viking themes, and Irish luck themes. There are simple slots and slots with lots of exciting bonus features. There are not just slots, but there are bingo, live dealer and many other casino games. There's so much choice it's becoming hard to choose what to play first! We can only imagine that there will be even more choice in the future.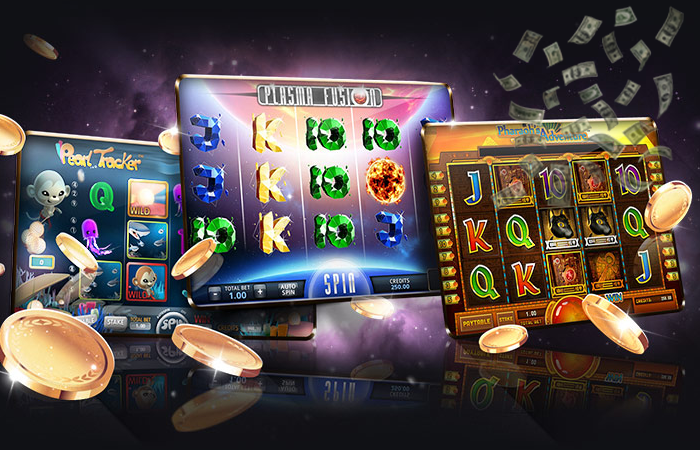 What is the future of mobile casino games?
The future of mobile casino gaming is interesting to think about. Mobile casinos offer the same things that online casinos do so it makes sense for this to be the direction iGaming goes towards. Just like online casinos, mobile casinos have access to fantastic casino promotions including welcome bonuses and loyalty schemes. 
Games are all mobile optimised too to give players a smooth and straightforward gaming experience and mobile casinos use the same SSL encryption technology as online casinos do so you can trust that all of your personal information is protected and kept safe.
Improved animations
Animation of all kinds whether that's in TV shows, movies or games has improved so much over the past decade. Technology is advancing so graphics designers, animators and artists are able to create artwork that looks almost realistic. We can only imagine that mobile casino games will look a lot more realistic in the future. All mobile casino games are in 2D, could they become 3D in the future? We can't decide if that will give us a headache or look really awesome.
It would be great if there were some 3D slot games to make the gaming experience even more exciting. In fact, casino operators are already working on a range of 3D online and mobile casino games so keep an eye out for those in the near future. As mobile devices improve, 3D games could be available on quite a few smartphones if not all. If given the choice to play your favourite mobile slot in 2D or 3D, which would you choose?
Virtual reality
Virtual Reality is already a thing and it's set to become even bigger in the future. As of yet, virtual reality in mobile casino games is not a thing. But could it be a thing in the future? We can't imagine this one happening for a while as it's still very new and in the early stages and is very expensive. But maybe in 10 or 20 years' time, it may happen. Virtual Reality is only currently compatible with PCs but the demand for VR could direct it towards smartphones. Once VR becomes compatible with smartphones then VR mobile casino games will follow.
Review Summary Mobile Casino
Pay by phone slots gaming won't be leaving any time soon. In fact, mobile casino gaming will continue to become popular for many years to come. The smartphone industry is huge so the iGaming industry won't let that go and gamers love the convenience that mobile casino gaming provides. Obviously, there will be an even wider choice of casino games to play on your mobile as hundreds are created every year. The animations and designs of mobile slots will continue to improve as technology advances and animations can be more realistic. 3D mobile casino gaming is looking to be the first advancement in the near future whereas it may take a while for Virtual Reality mobile casino gaming to become a thing.