Jack and the Beanstalk


About Jack and the Beanstalk Casino Slots - Read Our Review of this Game
Oh how far online slot games have come in recent years. So advanced are the graphics and animations of our favourite slots to play these days that you can easily forget that these were once games restricted to being played in the corner of pubs, clubs, chip shops or bars.
So far removed from the once so humble poker machine that first appeared well over a hundred years ago, the modern online video slot machine is a joy to behold.
With so much choice in terms of what games to play, slot game reviews have become an important part of the slot game community and here we have cast our eye over a great title, Jack and the Beanstalk slots video at Slots Racer.
A game with great graphics and a really great theme that serves up some nostalgia courtesy of a classic fairytale, Jack and the Beanstalk offers the chance for some good fun and the potential for some decent sized wins, too.
Developed by NetEnt, there are 5 reels in this slot game so it has a fairly standard layout, but with some really advanced visuals, there is nothing standard about Jack and the Beanstalk.
Quick Links: Rainbow Riches | Starburst | Fishin Frenzy Megaways | Mega Moolah | Big Bad Wolf | Goldilocks | Mustang Gold

Playing Jack and the Beanstalk Slot - What to Expect
Jack and the Beanstalk is a well designed video slot machine that is a fine example of why slots are challenging the likes of online bingo and online card games to becoming the most popular way to gamble and have fun online.
The set up of the game is fairly simple but what makes the game so original is the brilliant graphs that are used, pushing the boat out in terms of what we expect from an online slot machine.
The game has 5 reels so players will be able to pick this one up and know how it all works very easily. There are also 20 pay lines to work within Jack and the Beanstalk with slots promotions, so a fair few ways to win as you spin these wonderfully animated reels.
A betting range of 0.01 to 0.50 allows for some room for movement in terms of what you would like to wager, so even the higher rollers amongst us can find a way to make this game fit their budget.
Better still, a jackpot of 1000 times your stake is a more than worthy prize for those who take on the land of giants that waits at the top of the beanstalk and at the end of a big win.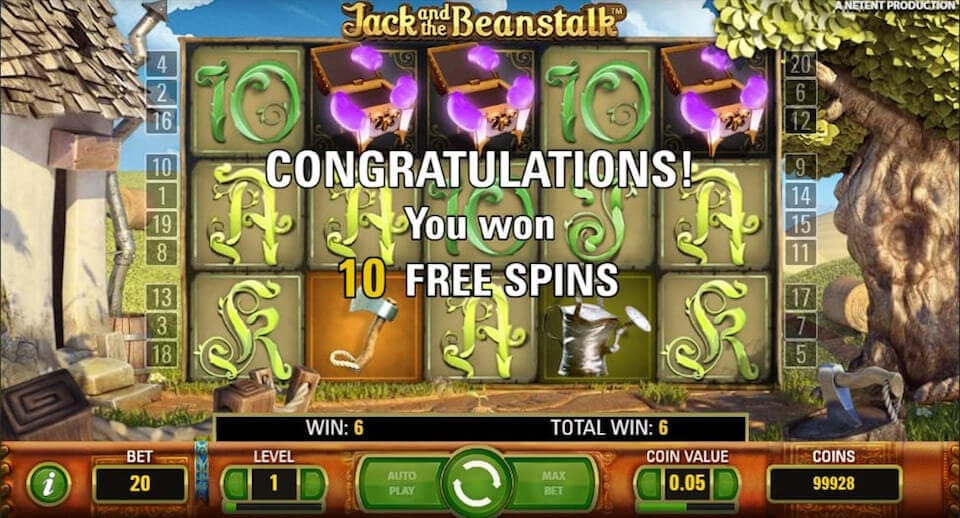 About NetEnt - Developers of Jack and the Beanstalk Slot Machine
Online slot games have come so far in recent years and there are many reasons for this, but they are almost solely down to the hard work and creative work that slot game developers do.
Developers of online slot games and of all online casino games for that matter have come to define this era for online casino and it is they who have pushed the very boundaries of what gambling games can be.
The developers of Jack and the Beanstalk are NetEnt, a well-respected company that have been around for a little while now.
They have a great catalogue of paypal casino games of similar quality and it is clear how much they enjoy taking a theme and making it their own as you flick through their collection.
In terms of graphics and visuals, Jack and the Beanstalk slot is perhaps their best work yet and the game runs ever so smoothly on your browser, no matter how you play this entertaining, fantasy themed slot game.
Jack and the Beanstalk Video Slots - Getting Started
Jack and the Beanstalk is really fun to play and rather importantly, it is easy to play, too. The game starts as you might expect or be used to already, with the placing off a bet and it is up to the player how much they would like to wager on this game.
Coins can vary in value according to what the player feels comfortable betting, which is a nice feature that allows this game to be enjoyed by a variety of players no matter what kind of budget they have.
There is a number of theme relevant symbols in this game that show the level of detail that has gone into its creation.
Look out for these symbols as the likes of the Golden Goose are among the higher paying icons and symbols on the reels. This game will run really well thanks to the great work that has gone into the animation and it does so across all major platforms.
This means that no matter how you play your slots, you will be able to spin and win across smartphone devices - check out this pay by mobile casino, tablets, and desktops. So you will not need to climb a giant beanstalk to find your winnings, simply load it up on a device of your choice.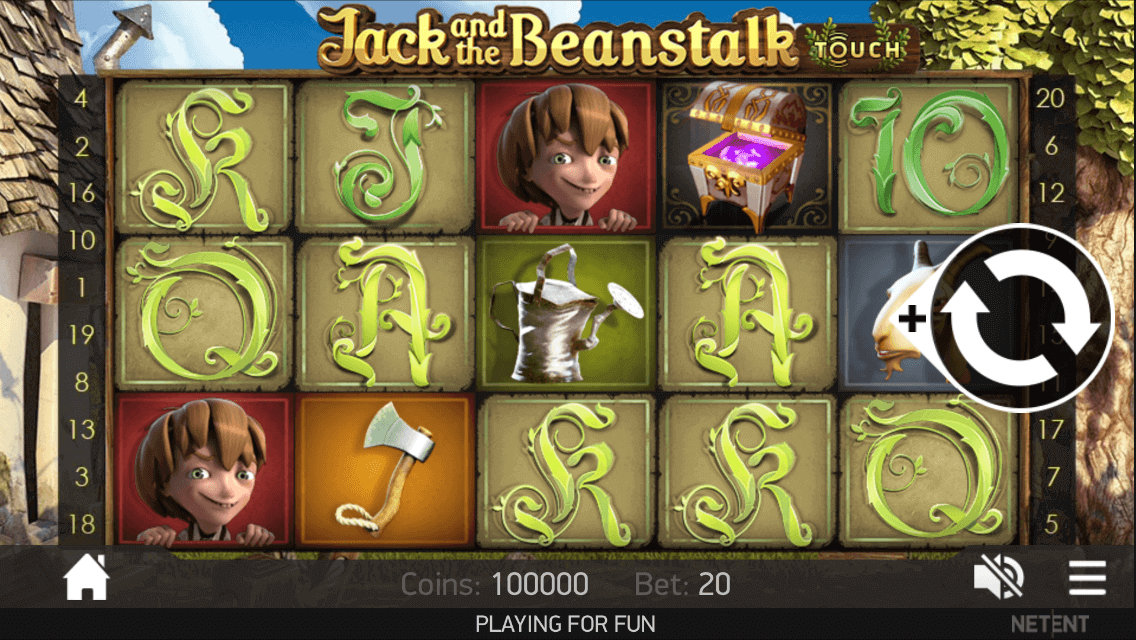 Jack and the Beanstalk Free Spins & Bonus Rounds
Bonus features have become a really important part of the slot game experience online and the more bonus features a game has, often the more popular it is.
Jack and the Beanstalk has a few to offer, with the likes of wild symbols providing an opportunity for the player to up their winnings in this slot game.
Wild symbols can fall onto the reels at random times and reward the player with one re-spin. When this happens, at no extra cost to your stake, the added wild will stay on the reels for your next spin, increasing your chances of winning bigger. Known as Waking Wilds, it's a really simple but potentially effective feature.
The best bonus feature in this game though comes if you land 3 of the Treasure Chest symbols on the reels at once across a payline. This triggers the free spins round which, as regular slot gamers will know, is always good news.
Last Thoughts on Jack and the Beanstalk - Hit or Miss?
With some really special graphics and original take on a classic fairytale, there is a lot to enjoy about Jack and the Beanstalk. A big prize and the end of the beanstalk might just be waiting for you, too.
Here's another slot game you must not miss - Lucky Valentine.