Cops And Robbers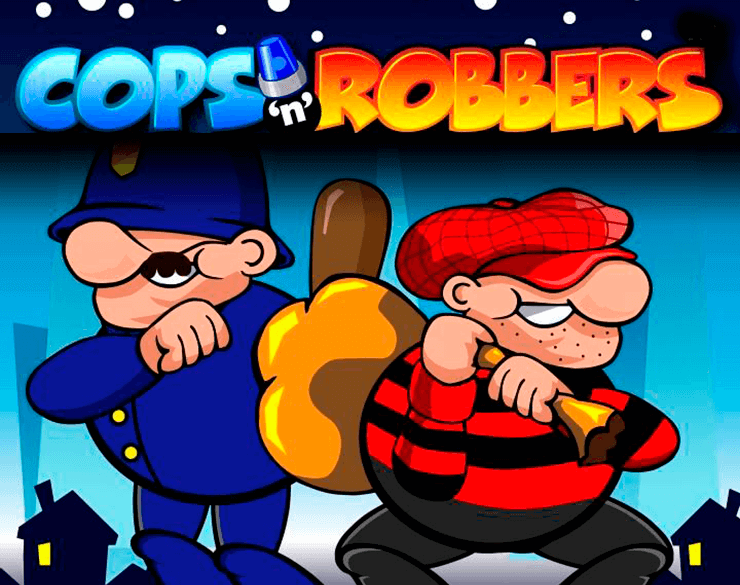 Cops and Robbers Review - Check out Free Casino Games
If you had to choose, hypothetically speaking of course, which side would you be on? Cops and robbers have been at each other's throats since the dawn of time it seems, so choose wisely! We kind of lean more towards the robbers (they're cooler), but that's just us. So, make sure you make your way to the casino and play the Cops and Robbers slot online to play!
Cops and Robbers is a 5 reel by 9 pay line slot machine that lets you live out your wildest car chase fantasies from as little as 9p a spin on all devices. This includes mobiles, too, allowing you to spin and win whenever you like wherever you like! This game is packed full of the top online slots bonuses! Discover more about this thrilling chase of an online slot machine by reading the rest of the review down below, or don't and get busted, your choice… 
Discover more on this unique slot games through our complete review below, or try any of these award-winning free video slots today:
Quicklinks: Shamans Dream | Double Da Vinci Diamonds | 3 Genie Wishes | Gonzos Quest | Mermaids Millions | Devil's Number | Diamond Strike
About the Developer of Cops and Robbers: Play N' Go 
Racking up hundreds if not thousands of players on a daily basis, it is our pleasure to introduce to you Play N' Go, one of, if not the most sought-after developer going today! Formed all the way back in 1997, these guys have gone from success story to success story, creating well over a hundred online slot machines and counting! 


Earning a loyal and dedicated player base is not an easy thing to do, especially when you consider the amount of competition there is right now that is constantly nipping at Play N' Go's heels. This Swedish developer has quite a varied mix of slot machines/online table games for one to pick and choose from — if you enjoyed Cops and Robbers, be sure to look at the following: 

Black Mamba 

Troll Hunters 2 

Inferno Joker 

And many, many more mobile slots games!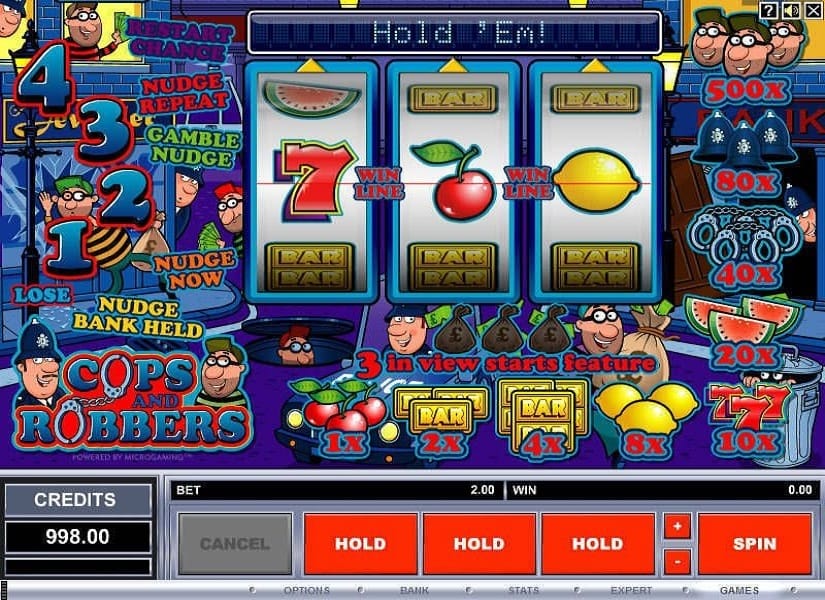 Cops and Robbers Slots - Gameplay & Symbols
Ill-gotten gains that is what you can earn here in Cops and Robbers — or if you want to go the pacifist route, you can always spin to put those nasty robbers behind bars again. Cops and Robbers is a fantastic example of a simple concept done right, one that doesn't shy away from what it is and actually embraces it for your enjoyment. Play N' Go have a knack of creating hit slots, and this one might just be their best to date! 
The first thing you'll notice about Cops and Robbers is just how simple it is to get the hang of — now, it's not as easy as a fruit slot, but it's pretty close. To win here, all you have to do is match various bright symbols from left to right in blocks of three or more, simple! You should know that you can match more which will make you more money, but this is a lot more difficult to pull off and will require multiple spins in most cases. 

To play Cops and Robbers, you must first present the game with a starting bet. Like we mentioned at the top of the review here, bets in Cops and Robbers can be placed from as little as 9p up to £90. Playing on the higher bet amounts will make you a lot more money, but at the same time, you risk losing more —, and that's money you ain't getting back too! 

Looking at this slot might make you believe that this is a somewhat childish game given how bright the reels are and the design of certain icons, but that's just part of the fun! Not every slot machine you come across has to be incredibly bleak and depressing — we commend Play N' Go for actually wanting to try something different. We would be daft not to mention how fantastic the soundtrack is here too, definitely one you want to turn the volume up on (or hit mute if you're 'that guy'). 

Every symbol you see on the reels here will score differently depending on how you play and the symbols you're cramming into the winning pay lines. Handcuffs, robbers, prisoners cops, watches, paintings, jewellery boxes, diamonds and money bags are all symbols found here in Cops and Robbers. On the reels, you'll find a few low-value symbols too just to keep the wins pouring in. Play this casino slot now on this paypal casino uk! What are you waiting for?
Bonuses & Free Spins on these Casino Slots
Be sure to keep your eyes peeled for the vault symbol here, this is the wild icon, and matching this icon will cause the entire board to shake. You see, wilds substitute symbols, replacing a potentially bad setup with a very fortuitous one in just seconds! If you are lucky enough o find five of these wilds in one row then you will earn 333x your stake as a reward — so as you can see, it pays to play! 

The car chase bonus found here is yet another reason to be excited. These symbols are otherwise known as scatters, and you'll find more of these by matching the wilds we just mentioned. Matching scatters is crucial to those of you out there wanting to make big money in Cops and Robbers. Scatters unlock free spins, that's why you want them, but what are free spins? 
Free spins are the equivalent of mounting the curb in a police cruiser — they allow you to fast-track your wins via multipliers! The amount of free spins you earn depends entirely on how many scatters you've matched in the first place. Up to 25 free spins are up for grabs here, so get your police scanner out, start looking for those scatters! You should try another game, the Rainbow Riches slot.
Last Notes on the Cops and Robbers - Hit or Miss?
Cops and Robbers is a steal! And, one of the top online slot games, to say the very least! You've no doubt played — or at least heard of — GTA, a video game that lets you lead a life of crime without the real-world repercussions, well, this is the online slot version! Play N' Go have made one of the best slot machines we've played in a while, so go on, put your mask/hat on and start earning the big bucks.