Golden Vault of the Pharaohs


Review of The Golden Vault of the Pharaohs Slots
Best online slots can come in all kinds of shapes and sizes, offering a range of themes, layouts and indeed, payouts.
It is one of the main reasons that the format of online gambling is so popular today, with the amazing amount of choice on offer helping the once humble fruit machine to trump its online competitors such as online card games and even online bingo. There are so many casinos to choose from that offer this service but even more games and among them, you will see certain themes emerge more often than others.
For example, the Ancient Egyptian theme seems to be a very popular option for slot game developers, slot game players and slot game hosts alike, with a whole bunch of games using pyramids, pharaohs and other parts of this time period as inspiration. As such, it can perhaps be hard for free slot games with these themes to still stand out and be original, but one game which certainly has managed to do this is the intriguing title that is The Golden Vault of Pharaohs.
Combining Ancient Egypt with a jackpot theme and a lust for luxury and riches, this well developed online slot game has great graphics and the potential for some rather large wins.
Quick Links: Shamans Dream | Double Da Vinci Diamonds | 3 Genie Wishes | Gonzos Quest | Mermaids Millions | Devil's Number | Diamond Strike

Summary of The Golden Vault of the Pharaohs 
The Golden Vault of Pharaohs is a fairly standard slot in terms of the gameplay and the layout of the reels which you must use to try and create some wins. This mobile slots game has a fairly common 5 reels by 3 rows layout, making what you might see as a classic slot game in terms of how it plays. However, one thing which is not standard is the size of the jackpot in The Golden Vault of Pharaohs, with this game offering 1500000 as the top prize.
This is big for a game that does not have a progressive jackpot and is not technically a jackpot slot game. Simply put, the game just offers. Amigo fixed jackpot for players to aim for and this creates a great narrative for the game as players aim for the very top prize with every spin.
Also, when you bet on this game you will notice that there is a really large betting margin. You assign what value your coins are worth and the betting will start at 0.6 and go all the way up to a large 450, so even if you are something of a high roller in the online gambling scene, you will be able to craft a bet that works for you and your budgets. An RTP rating of 96.71% is appealing, but if you are a big fan of slot games that have bonus features, this might not be the game for you, as The Golden Vault of Pharaohs has no traditional bonus features to report. View slots offers here, if you want something to compensate for that omission.
About High 5 and Their Other Games
Once you get to know what slot games you like and what online slot games you do not enjoy so much, it is well worth taking note of the developers behind such games. For the developers of online casino games such as online card games, online roulette, online poker, online bingo and online slots like The Golden Vault of Pharaohs, are some of the most important brands in this online casino era - and High 5 Games are amongst the best at what they do!
It is the developers who have created the games that we all know and love and they have pushed the very boundaries of what games like slot games can even be with 3D graphics and in-depth themes creating engaging games. High 5 Gaming might not be the best well-known developer out there, but they are one with a growing reputation and games like The Golden Vault of Pharaohs will not harm their reputation in the slightest. Try it now on Slots Racer with deposits paypal, what are you waiting for?
Using this game as a case study, there is evidence that High 5 loves to put effort into their graphics and other visuals and do not mind taking a risk to make an original slot game. Not using bonus features is a rather bold move here from them, but it works in this game, with plenty of other factors to enjoy about The Golden Vault of Pharaohs. Also, this developer is one for mobile gamers, too, thanks to the fact that their titles are made widely accessible across all major platforms. Mobile, tablet, desktop, the lot.
About The Golden Vault of the Pharaohs - Gameplay & Symbols
As we mentioned earlier in the slot game review, The Golden Vault of Pharaohs is a very simple game to play and this mainly down to the use of the classic 5 reel layout. As you might expect, the game starts with the placing of one's bets and then on, you must spin these reels on offer in hope of lining upside combinations across the pay lines provided.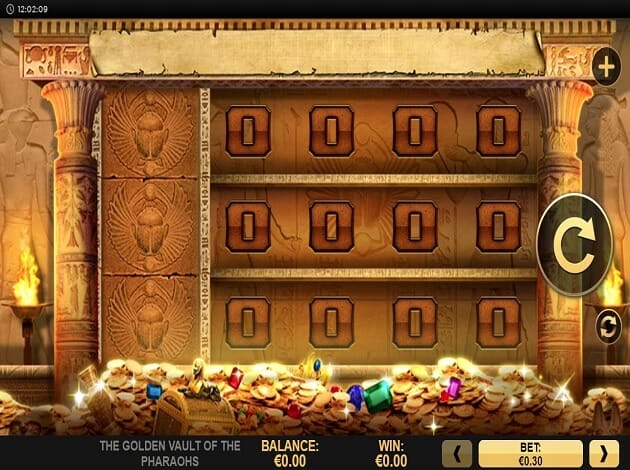 Interestingly, not all the symbols on the reels will actually reward you with a win and the zero symbol comes as a bit of curveball as a result. If you match up five of the zero symbols on a pay line you will win nothing at all, with this dud of a symbol becoming quite frustrating. And yet, this is just another way in which The Golden Vault of Pharaohs is rathe original and it gives the player another aspect to think about.
There are no slot game bonuses for free spins to be won and earned in this game and this is something very rare for such a modern online slot. However, after this video slots review do not feel that the game is any worse for its lack of bonus features and actually, it is rather refreshing to have the potential to win the biggest prizes present in the main game all the time rather than having to rely on a bonus feature to do so. The jackpot in this game speaks for itself, after all.
Verdict on The Golden Vault of Pharaohs Slots
Slot games in 2020 tend to be really advanced and can often over complicate the simple things. The Golden Vault of Pharaohs does not do this, but still provides what you are looking for in a modern slot game with great graphics and a unique theme.
You can also try playing Fruit Collector if you enjoyed this game!