Pirates Frenzy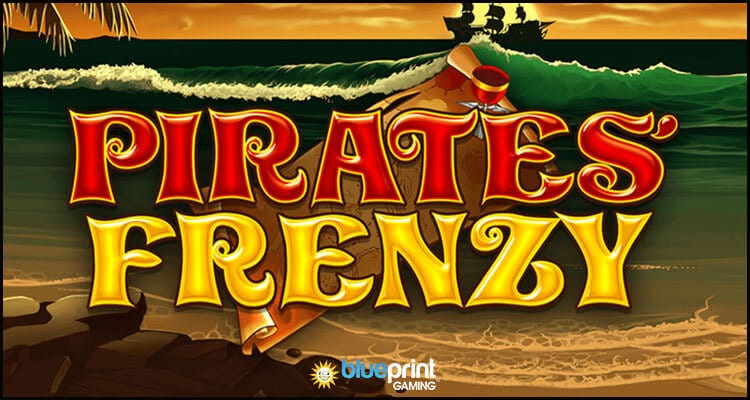 Pirates' Frenzy Casino Slots - Introduction
Online slot games these days can be centred around any number of themes and often, the deeper into these concepts they go, the more engaging they are to play.
And there are so many slots games and so many themes to choose from, ranging from outer space to the deep blue sea. This game here up for an online slot game review is closer to the latter concept, with Pirates' Frenzy taking us to something of a deserted island - or perhaps a treasure island - where online gamers can try their luck at taking the treasure that is a jackpot.
A simple slot game with some really nice graphics, Pirates' Frenzy at www.slotsracer.com has blue seas and white sands as your setting for the five or six reels that you use to carve out your fortune.
Developed by Blueprint Gaming, a developer famed for their great visuals in their video slot games, this title is a visual treat with really good gameplay and a couple of bonus features, too.
Quick Links: Guns n Roses Video Slot | Jimi Hendrix Slot Online | Bonanza | StarDust | Fluffy Favourites | Fluffy Too | Slingo

Review of Pirates' Frenzy
With a pirate theme in action, you might expect this play paypal casino game to be a swashbuckling affair but rather, it is a rather remote, relaxed setting that hosts Pirates' Frenzy.
Waves gently crash against the sand as you play and use pirate themed symbols to work your way towards some spins and wins.
There are 5 reels to work with for the most part in this game but the option to use a six reel from time to is there and adds a nice aspect to what would otherwise be a fairly standard online slot game.
There are 20 pay lines for you to use as you try and work your way to the promised land of a jackpot that could be added by the added bonus of 10000.
The betting here starts at a fairly humble 0.20, meaning that gamblers on smaller budgets can enjoy this quest for treasure in  Pirates' Frenzy.
The game is available from various online casinos and online slot hame providers and is accessible across all major platforms that you would expect to be able to play slot games, online card games, or online bingo on.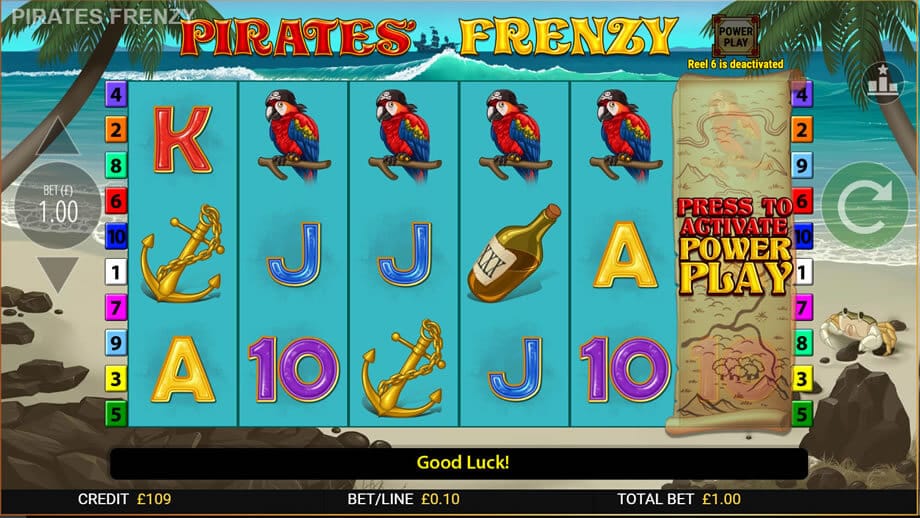 About Blueprint Gaming - Developers of Pirates' Frenzy Slot Machine
The importance of developers in the online casino industry can no be underestimated for it is they who have come to define this golden era for online casino games and slots promotions that we are living in right now.
This is because it is the brands that developer online casino games that create the software and visuals that we all know and love.
The genre has evolved so much in recent years as a result of the hard work and innovation that developers make happen and Blueprint Gaming is surely amongst the most revered of all brands in the slot game development sector.
This developer is known for creating games with original themes and perhaps even more importantly, it is known for being able to bring such themes and concepts well and truly to life thanks to great work with graphics and animation.
Blueprint Gaming has a growing catalogue of games with plenty of varied online mobile slots to choose from, most of which are playable across all major devices including your mobile device. And for more pirate themed slots, check out the following:
Pirates' Frenzy - Gameplay, Symbols & RTP
Pirates' Frenzy is a fairly simple to play slot game so as long as you are already familiar with the popular pastime that is online slot games, then you are likely to know just how to play this title as soon as you load up.
The game starts, as ever, with the player placing their bet, and from here on, you can bet per spin and on either five or six reels.
The sixth reel acts as something of a bonus, upping the stakes in terms of what you can win. The backdrop of the game is really tranquil and far from the frenzy that the name Pirates' Frenzy may suggest.
You are on a sunny desert island with only the likes of a cute crab to the side of the reels for the company.
As for objects, not the reels, this is where the pirate theme really shows itself with lots of nautical and pirate-related objects to be found amongst the higher paying symbols.
Look out for bottles of rum, anchors and parrots on the reels, as well as traditional card symbols like 10, J, Q, K, and A. That said, pirates probably enjoyed a game of cards now and again, didn't they? Rummy perhaps?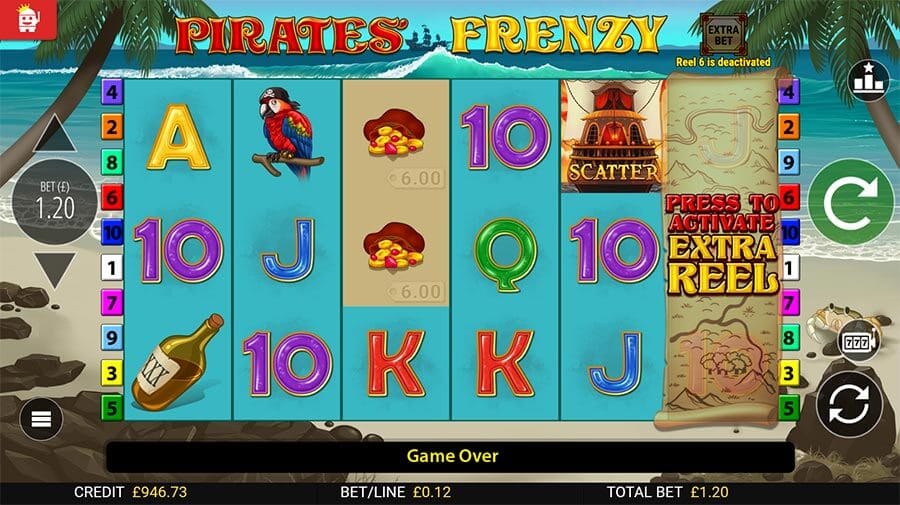 Free Spins and Bonuses in Pirates' Frenzy
Online slot games often offer bonus features such as free spins and mini hames and these are yet another reason as to why the game format is so very popular with the online gambling community.
In this game, you will find free spins round and this, despite being the most common bonus round that you will find across the slot game scene of today, is probably the most popular kind of bonus round there is.
For the free spins round allows the player to play without having to place another bet and not only this but often extra multipliers of bonus symbols come into play, too.
The free spins feature here is the main attraction of the game, triggered by the landing of three pirate ships on one payline. You will then be able to enjoy between 10 and 50 free spins as a reward for landing these symbols, with multipliers coming into play when you win with a free spin.
Whilst this may be a simple bonus round, you cannot take it for granted as once triggered, you will see your wins slowly start to climb and get to an amount you will be happy to cash out with.
Our Conclusion on Pirates' Frenzy Video Slots
We love an online slot game that picks a theme and really dedicates itself to it and Pirates' Frenzy certainly does that.
A surprisingly tranquil play, you get to hunt for treasure uninterrupted by anyone else on the well-designed desert island that plays host to a hefty treasure of a jackpot.
Here's another game you should never miss - Jack and the Beanstalk Slot.