Vegas Downtown Blackjack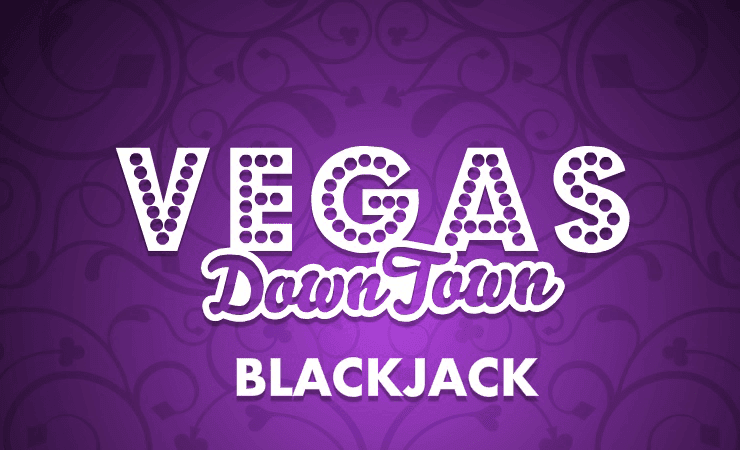 Vegas Downtown Blackjack - Getting Started
Do you love playing online Blackjack? And are you after something a little bit different than spices up the usual rules? Then you have definitely come to the right place! Vegas Downtown Blackjack has some different rules in place, as well as the standard gameplay that we all know and love so much.
If you're a beginner, then don't worry! This review will tell you everything that you need to know about the game, including the rules, betting and strategies that you can employ to raise your chances of winning. Want to play the game right away? Then make your way over to the top slot sites - Slots Racer!
QuickLinks: 7s to Burn | Mad Mad Monkey | Rainbow Riches Megaways | Tomb Raider Slots | Eye of Horus | White Rabbit Slot | Sugar Train Slots | Thunderstruck II Slots

How to Play Vegas Downtown Blackjack
So how do you actually play Vegas Downtown Blackjack? It won't seem too confusing to those of you out there that already know how to play the game. The game is played by using two decks of 52 cards that get shuffled after each game. You can bet on a maximum of five hands at the same time, all whilst being in competition with the dealer's hand.
The dealer is dealt two cards from the deck and one will be face down. If his card that's lying face up has the ace value then the player is offered an insurance bet. This will come at a cost of half of your fist bet, and there is no surrender option available. It's important to note that the dealer has to hit soft on 17, and in other Blackjack games you'll have noticed that they have to stand. Why not take advantage of our promotion slots?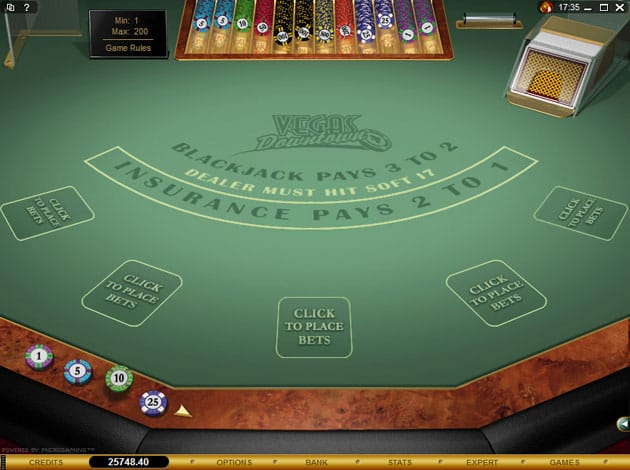 Betting and Payouts
Apart from the above the rest of the rules are super similar to the Blackjack some of you will already be very familiar with. Splitting can be done a maximum of two times, and if you've split aces then you can only draw one more card. If this card represents a 10 value then the result is 21, and not considered a blackjack.
Doubling down can occur on any two of your cards, and it will give you one extra card and then you have to stand. So how do you place your bets? You get taken to a green table that actually makes you feel as if you are in a real brick and mortar casino! Betting begins at £1 and the maximum that you can bet in Vegas Downtown Blackjack is £200. An insurance bet will pay you 2:1, while a blackjack will pay you 3:2.
While you are here at Slots Racer online casino, why not check out our slots game collection?
Strategies or Card Counting
We don't actually recommend card counting as a strategy for Vegas Downtown Blackjack. This is because it's played with two decks of cards that are always being reshuffled by the dealer – it would be hard for anyone to keep up with this! You can also discover and play video slots today at Slots Racer.
Of course, if you're an experienced card counter and this is your preferred method then you carry on with what feels the most comfortable to you. Keep on reading for some more winning strategies that you can employ for this fun game.
Play for fun: playing for fun and not using your real money is the best way to get used to a new game. And more importantly you won't lose any money that you weren't prepared to! This also fits in with making sure that you learn the rules before you begin the game, otherwise you have no one but yourself to blame!
Choose your casino wisely: you should always play at on online casino that you know you can trust, so you know that your money will be safe with them. Choose a casino with good bonus offers, all of its up to date licenses and ways of keeping your personal details safe and private.
Use a Strategy Card: this is a great tip for beginners, as these cards will help you to do mathematic calculations and help you to decide on your best betting and strategy. We don't just recommend this to beginners though, as they can be super useful to you experienced players as well. Especially if you are still familiarising yourself with some new variations on the rules.
Place limits on yourself: setting a betting limit or loss limit is a great way to keep your spending in check, and it can stop yourself from losing money that you can't actually afford to lose.
Take a break: sometimes the simplest strategies are the most effective and this is certainly the case with this one! After all, sometimes we all need to walk away and stop ourselves from gambling. When it stops becoming fun or you start to chase your losses you'll know it's time to take a break for a bit.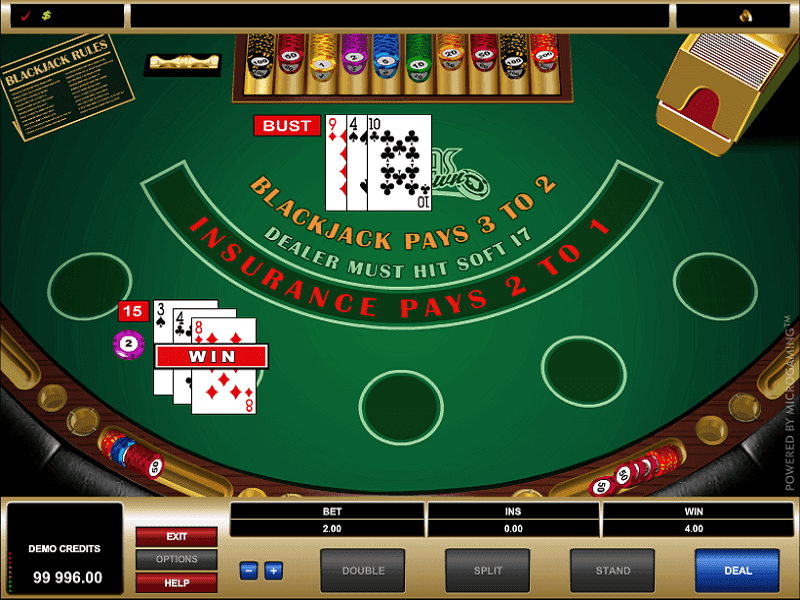 Last Thoughts on Vegas Downtown Blackjack Casino Game
Vegas Downtown Blackjack is a wonderful game to play, and we enjoyed the variations on some of the more traditional Blackjack game rules. We would recommend this game to beginners as well, but would suggest that they take some time to familiarise themselves with the rules of normal Blackjack first and perhaps play a few games of that. We also strongly recommend the Vegas Single Deck Blackjack casino game as well as the Vegas Strip Blackjack, too. 
Experienced players will enjoy the fun twists that have been put on this game! Plus the betting range allows for players of all means to join in the fun, as players can keep their bets casual or go bet the maximum amount and try to win big.
When you feel ready to play Vegas Downtown Blackjack head on over to the online casino Slots Racer for a fun gaming experience, so click to join a pay by mobile casino! If you also enjoy playing online slot machine games then Slots Racer is the perfect casino for you, due to the mixture of card games, live games and slots that they offer their players.
All their slots have exciting themes and intriguing bonus features, and they also have a 500 free spins offer in place right now! So what are you waiting for? Go and play some amazing online slot machine games like the Treasure Heroes slot once you have played some games of online Vegas Downtown Blackjack.