Vegas Single Deck Blackjack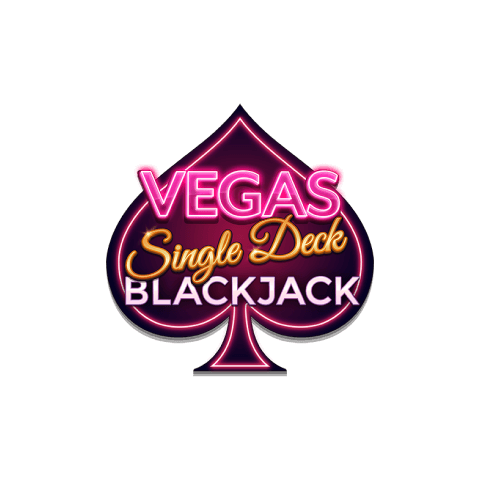 Vegas Single Deck Blackjack - Getting Started
Blackjack is a casino game that historians believe has been around since 1700 when it began in French casinos. It is a game that is never going out of style, as when the iGaming industry was launched, Roulette made sure to secure itself a place!
People love the simplicity of the game and how easy the rules are to follow. Vegas Single Deck Blackjack is a variant of the popular Blackjack game, and as you may have already guessed the main difference is that it's played with just one deck of cards.
We have written this helpful review of the game to help you get to grips with the rules, betting and payouts. We have also given you some helpful hints at how to better your chances of winning! Of course, if you want to play the game now you can go to the online casino Slots Racer!
Quicklinks: Aloha | Fruit Shop | Goonies Slot | Fishin Frenzy Online | Gem Slots | Immortal Romance Slot | Irish Luck Jackpot | White Wizard

How to Play Vegas Single Deck Blackjack
So now we have come to the section that tells you how to actually play Vegas Single Deck Blackjack. It is a straightforward game to get the hang of, but let's go through all of the rules. This version of Blackjack is played with just the one single deck of 52 cards that gets shuffled before each hand.
The game starts off with the dealer and the player being dealt two cards each. The aim of the aim is to not let you hand exceed the value of 21 but to get as close to it as you possibly can.
The dealer has to hit soft on 17, and blackjack is won when the card that is visible is either an ace or has the value of 10. The player then gets offered something called an insurance bet which will give them a payout of 2:1 if the dealer has a blackjack.
If you sign up to Slots Racer online casino today, don't forget to check out our online slot promotions.
Betting and Payouts
As you have already seen, not much is different compared to regular Blackjack. Let's go through what bets you can place and the payouts you can receive. You are allowed to split two cards just the once in Vegas Single Deck Blackjack and they have to be of the same value.
If you want to split aces then there are some things that you should know. After the spilt you only get another one card and an ace with a 10 value card is regarded as a 21 and not a blackjack. You can also choose to double down but you can't do this after a spilt, you can only do it on a hard 9, 10 or 11. So what are your betting options for Vegas Single Deck Blackjack?
Well, there's a minimum bet of £1 or a maximum bet of £200, and a blackjack win will pay you 3:2. The game also has some cool features, such as a Quick Deal option for those of you that like fast paced game play, or an Auto-Rebet ready for your next game. You can also view our slot games if you are looking for something else.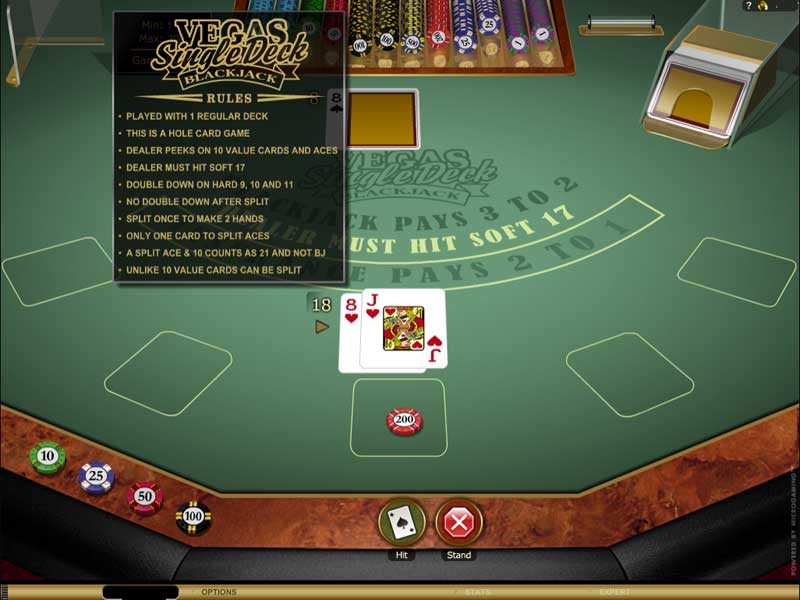 Strategies or Card Counting
Some online casinos don't allow card counting and you can even be removed from the game if it's suspected that you are using the strategy. So you should use it at your own risk! You may find it an easier strategy to employ due to the fact that there's one deck of cards and this means there's less to keep track of. If you don't want to use this strategy then keep reading for more strategies that you can use, or try some of our top video slots.
Learn the rules: make sure that you not only learn the rules of the game, but that you understand them as well. As we know, different variations of Blackjack have different rules and sometimes players can become confused.
Playing for fun: play Vegas Single Deck Blackjack for fun and not real money. This will allow you to get to grips with the intricacies of the game and familiarise yourself with strategies that work for you.
Choose a reputable casino: choosing a reputable casino to play at is a big part of your gambling experience. Choose one that is known for paying its players on time, keeps your details safe and has up to date casino licenses.
Take a break: taking a break from gambling is sometimes the most sensible thing you can do. Some casinos also have Take a Break features so that you can control your spending, betting and time that you play casino games for. If you start to chase your losses then you know that it's time to walk away from gambling for a certain period of time.
Use a Strategy Card: using a strategy card is a great idea, as it will help you to work out complicated calculations and give you advice on what the good bets are to make while considering your position in the game. This is a great idea for you beginners out there, as well as experienced players as sometimes we all need a little extra help.
Last Thoughts on Vegas Single Deck Blackjack Casino Game
Vegas Single Deck Blackjack is a fantastic online casino game to play! The rules and bets are kept simple, as it mostly follows a traditional Blackjack game format. The main difference is that the game is played with a single deck of cards. Click to view the pay by mobile casino feature now.
This allows for you card counters to employ this strategy, while others could use a strategy card to help you out. What's more, there's a flexible betting range in place so players on all different kinds of budgets can join in the fun! Ready to play Vegas Single Deck Blackjack?
We don't blame you! Head on over to the online casino Slots Racer and begin your gambling adventure right now. If you enjoy playing online slot machines then this is a great casino option for you.
They have hundreds of games, with a variety of themes and bonuses for you to use. Slots Racer offer you a 500 free spins bonus, so go and check them out and try Vegas Downtown Blackjack or  Vegas Strip Blackjack today!